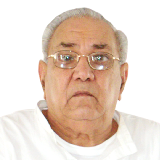 The Secret of Life
July 2, 2003
Bikaner, Rajasthan
Gurudev Shri Ramlal ji Siyag
Go to
'Gurudev's Divine Writings'
I continued falling from the highest peak of consciousness, that is, from infinite height for a very long time in the form of an eight-to-nine-month-old infant facing upwards. There was a constant fear that my bones will break into pieces the moment I will fall on the ground. So, while keeping my hands and legs tightly closed to my body, with bated breath, I waited for the moment of death.
Suddenly, I found that I fell on pink flowers. I felt that the infinite speed with which I was falling has gradually calmed down and I fell on the pink flowers facing upwards. Then I let my body loose and breathed a sigh of relief.

Recently I am experiencing that I am a new and a strange being in this terrestrial consciousness. I understood the secret only after I read the 'Divine Transformation' by Maharishi Aurobindo. In this relation, Maharishi Aurobindo has written-

God spirit meets God matter.

Divine Transformation: No more stomach, no more heart, no more blood circulation, no more lungs, all this will disappear and be replaced by a play of vibrations representing these organs of the centers of energy. They are not the essential reality. They simply give it a form or support in certain given circumstances.

- Maharishi Aurobindo

In 1968-69, I chanted the Gayatri Mantra 125000 times while performing the 'havan' along with each chant. After I completed this ritual, I saw a white milky light in my entire body during meditation. I felt infinite peace in this light.

At that time even I had wondered about that light within me. None of the organs like the spleen, liver, lungs, heart, etc. were visible. When I tried to see these organs, I heard the buzzing sound of a black bee in that light. When I reached the center of origin of that sound, I found that it was the Gayatri mantra that was incessantly coming out from my navel.