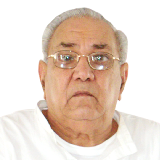 The Guru protects from the dangers of the descent of the 'Shakti'
October 2, 2000
Mumbai, India
Gurudev Shri Ramlal ji Siyag
Go to
'Gurudev's Divine Writings'
The descent that is occurring from above and the process that is making it happen, in this, the most important thing is to not depend completely on yourself instead rely on the Guru.
Tell him, whatever happens, for his opinion and decision (This job can be done by the inner guidance of the Guru).

Because it often happens that due to the descent of the Supreme Power, the lower-level forces are awakened and agitated (because they see the area under their control being snatched away) and they want to unite with him and make use of him to serve their purpose.

It often happens that certain non-divine powers take the form of the 'Supreme Power' or 'Goddess Bhagwati' (feminine divine energy) and demand service and surrender. If this is accepted, the result will be extremely devastating.

Surely, if the disciple has risen up to the 'Bhagwat' level and has surrendered to his spiritual master then all the work can continue in an easy manner.

This ascent of the disciple and his complete renouncement of all the egoistic powers and the powers liked by the ego protect the disciple completely during the entire spiritual practice. Still the path of nature is full of webs.
The guise of the ego is countless. The 'Maya' of the dark forces- the demonic 'Maya' is extraordinarily clever. Our intellect is an incompetent guide and often betrays and the innate desire accompanying us always tempts us to pursue any attractive call.
Reference: Maharishi Aurobindo (March, 1928)