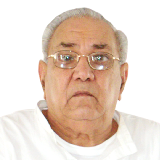 Play of God's Maya is very Strange
September 6, 1988
Gurudev Shri Ramlal ji Siyag
Go to
'Gurudev's Divine Writings'
What God is going to get done through an ordinary man like me is a matter of great surprise. If I tell an ordinary man of this world, all that is going to be accomplished through me, I would definitely be declared insane.
What God is going to get done through a man who was born in a thatched hut to poor parents in the desert region of the world is a great miracle. In the year 1984, in reply to my question during the meditative state, I was shown 15, 26, and 27 and 16:7 to 16:15 parts of Yohana. When I read this, I was very surprised and curious to know how this could be a reply to my question. When I enquired, I got to know that these were the parts from the holy book of Christians, the Bible.

Incidentally, I got to read 'The New Testament' which is a part of the Bible, after a few days. It was a Hindi translation of the original book but the translation was quite wrong. Then I met Shri V.K. Sharma who worked as a matron in the Railway Hospital and got the original Bible from him. I wrote down the two main parts of it which were related to me as they were shown to me by the Supreme Power and I was also given a direct experience of it.

When all the things written in St. John 16:12 to 16:15 turned out to be true, I was very surprised. Once I thought as to what has been mentioned about 'Bliss' in the Bible. I was inspired to read St. John 15:11 and Psalms 23:5 but when I read that, I was very amazed because whatever was written, the same thing was being experienced by my disciples. I wondered that I was experiencing bliss because of my spiritual practice but why are my disciples experiencing it. Then I was shown parts of Acts of Apostles 1:5. I understood nothing after reading it. I also thought why are people associated with me having direct experiences? To this, I was ordered to read the parts of St. John from 3:3 to 3:8. After reading that, I understood that it is the principle of becoming 'Dwij' (Twice born) of the Hindu philosophy.

My spiritual method is based on the principle of Hindu philosophy that the entire universe is within so it is impossible to connect with the Supreme Power without becoming introverted. Then I was inspired to read the parts of St. John 2:19 to 2:21 and 2 Corinthians 6:16.

All the above facts had a great impact on me. I thought that the people of the world have selfishly made different religions and sects and have become their owners. All the saints born on this earth have worked for the welfare of entire mankind. The formation of different religions like Hindu, Muslim, Christian, Jews, Jains, Buddha etc. is the figment of man's intellect.

- Gurudev Shri Ramlalji Siyag

One day I wondered that right now I am connected to very few people but what would it be like when I will meet various people of the world! To this, I was inspired to read- Acts of Apostles 2:14 to 2:18 and 2:33.

I am quite surprised to see the above facts. The facts told by the great soul, Jesus, about 2000 years back are getting proven through an ordinary man like me, this is quite amazing. I am in a state where I can prove all the things written in the Bible and Bhagwat Geeta. Very soon all the facts are going to be revealed to the world.