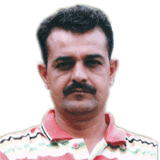 Ramaram Patel
Piles & alcohol addiction cured
Location
Ramaram Patel, Shanishacharji Than, Chowpasni Road, Jodhpur (Raj)
I was suffering from hereditary piles (warts) since birth. Always took medicines for it but there was no difference. Once when I showed it to the doctor, he said that you will have to get the operation done.
I asked the doctor will the disease be cured by the operation? Doctor Saheb said that nothing can be said. Then I came home without getting operated. In 1992 or 1993, someone who worshiped Gurudev Shri Ramlal Ji Siyag, told me about Gurudev and Shaktipat initiation.

He told me that all the diseases are cured by meditating on Gurudev, so I started meditating after taking initiation from Gurudev. With regular Sanjeevani Mantra chanting and meditation, Yogic Kriyas started occurring automatically and I became forever free from this problem.
After that, till today 05 May 2008 there has been no problem and today I am completely healthy with Gurukripa (Grace). Gurudev came as my God.
Earlier, I used to be upset all the time due to this disease. Today I am 38 years old, I am an administrator at Shanishcherji's place in Jodhpur.

Life is progressing happily with Guru Kripa. Earlier, I was addicted to alcohol. Used to quarrel with people for no reason. Now, I am free from addiction to alcohol by Guru Kripa.

And with transformation of my tendencies, such a change has come that I can no longer sit with any person who drinks alcohol.

Greetings at the feet of Pujya Gurudev Shri Ramlalji Siyag. My illness was cured only by chanting and meditating on Gurudev.