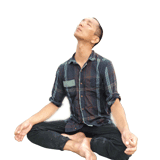 Taro Inajaki Experience of Japanese seeker
My name is Taro Inajaki. I have come from Japan. By profession, I am a marshal art teacher. I came to India for tourism and to experience spirituality.
I had a vast theoretical knowledge about spirituality and meditation. I read many books and literature about yoga. In our country (Japan) also, meditation is practised. But I never tried any method.

It is my first experience.
I came to know about Gurudev's Siddha Yoga Meditation from the owner of the Guest House where I stayed.
I got all the information about Siddha Yoga and Gurudev's mantra CD, monthly magazine Spiritual Science and the book- Religious Revolution In the World.

It is very difficult to express in words what I experienced during meditation. As I started meditation my internal and external body moved. I experienced different kinds of yogic movements and 'pranayam' (breath control).I did not intend to do them; they were happening automatically. I tried to stop the movements but I could not. Then I again concentrated on the mantra.

I felt peaceful and calm. I will continue to do it regularly.