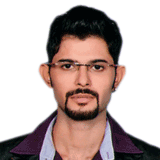 Aaruni Bharat Effect of poison was nullified and got a new life.
First of all, my salutations to my Gurudev Shri Ramlal Ji Siyag and Dada Gurudev Baba Shri Gangainathji Yogi (Brahmaleen) Maharaj. My name is Aruni Bharat. From the very beginning, I had religious tendencies and faith in God. All the family members are also of religious nature.
My father gave me a photo of Gurudev in 2010 and asked me to meditate. Initially I did not believe at all. I meditated for 15 minutes but nothing happened as I always worshiped Shri Balaji Maharaj as my favorite deity. Then on January 29, 2011, someone gave me poison in Delhi with the intension of robbing me of my gold rings and valuables.

I became ill. The doctor treated me all night and removed all the poison from the tubes but after that I remained ill and gradually my condition started deteriorating and I was admitted me to the hospital where I was told that I had TB.

My weight dropped from 65-68 kg to just 43 kg. After that I was admitted in another hospital but after 77 injections and many medicines that were given in 7 days, I did not get well and my weight dropped to just 33 kg. The doctors at Sawai Mansingh Hospital, Jaipur and the doctors at Delhi AIIMS Hospital, said that I will not survive.
Then one day suddenly a nurse switched on the TV in my room at the hospital, Gurudev Ji's program was coming on Zee Jagran channel. I took the mantra initiation. I started chanting the Sanjeevani mantra and also started meditating. I also started feeling very comfortable. By the grace of Gurudev, all the avenues for my recovery started to open and I recovered in just 15 days.
But I still did not have full dedication towards Gurudev because I thought that may be my deity Balaji has cured me. Due to this misconception, I did not surrender completely. I used to meditate for 15 minutes and worship Shri Balaji for half an hour. This divided both, my faith and my devotion.

Troubles continued to grow. A time came when I became a bit crazy. Everyone explained to me to worship only Gurudev ji but I did not listen to anyone and said that if Gurudev has power then he will call me and speak to me. In the same stubbornness, day after day, my madness continued to grow. One day on 7 January 2013 I cried a lot and apologized to Gurudev.

Then I planned to go to Jodhpur Ashram with my family and we reached Jodhpur Dham. I was fortunate to have come on the Disappearance Day of Shri Dada Gurudev Ji. As soon as Gurudev entered through the main door, my body started shaking badly and my hands and feet trembled.

I cried a lot with only one prayer that Gurudev Ji show me the way. Then I meditated and saw my deity Balaji, who said to accept Shri Gurudev ji and worship him as he was also within Gurudev.

Suddenly the meditation was over and I felt calm and peaceful. When the time came to touch the feet of Shri Gurudev Ji, I wept in a manner as if my soul was being separated from the body and the same prayer continued that Gurudev let me hear from your mouth what I wish to hear. When I cried a lot, Gurudev's disciples caught me and asked me to take care of myself, but I cried more and just kept praying that Gurudev ji you know what I have come here for, so please help. Then Shri Gurudev ji called me and told his disciples to leave me. He then let me touch his feet. Then I touched the feet of Gurudev and started crying. Then Shri Gurudev blessed me with his hands and said what I wanted to hear.

Finally, Gurudev said, "You worship Balaji, don't you? I said, yes. Then he said that everything went well in meditation and I said yes. But I thought to myself that Gurudev, I want to hear from you. Then immediately Shri Gurudev Ji blessed me and said, "I am the Kalki avatar. I have Shri Balaji and all the 36 crore Gods and Goddesses within me, only by chanting the Sanjeevani mantra, all will be well."

I tell this experience to all the Guru brothers and Gurus sisters. Only worship Shri Gurudev ji, chant the Sanjeevani mantra, this is the ultimate power. Therefore, my sincere request to all of you is not to fall into superstitions and only chant the Sanjeevani mantra of Shri Gurudev Ji and meditate on Him.