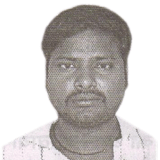 Chinna Raju, S/O Shri Ramaswamy Hepatitis B cured
Location
Simoga, Karnataka
I salute at the holy feet of His Holiness Gurudev Shri Ramlal Ji Siyag. My name is Chinna Raju, son of Shri Ramaswamy, District - Simoga, (Karnataka). I fell ill in 2010. Upon investigation, it was found that I have Hepatitis B disease.
My eyes used to have burning sensation. I did not feel hungry, physically was getting weaker day by day. My life had become very painful. I myself was looking for ways to commit suicide.

Once I went to a garage in Simaoga to fix a truck. On the wall of the garage, I saw a poster of Gurudev Shri Ramlal Ji Siyag, on which it was written that incurable diseases are cured by practicing Gurudev Siyag's Siddha Yoga. Some kind of faith and confidence developed in me by reading that.

I thought if I meditate, maybe I too will be cured! I called on the phone number that was given on the poster and took complete information about Gurudev's Siddha Yoga Philosophy. A local disciple of Gurudev explained the Siddha Yoga Philosophy and giving a picture of Gurudev, explained the method of chanting and meditation.
I kept chanting the mantra all the time and meditated in the morning and evening, due to which I was cured of this incurable disease.
My weight also increased.

I started enjoying meditation. Physically, I have been cured of Hepatitis-B. Gurudev blessed me.

Now I am very happy. My countrymen should join this Siddha Yoga and benefit from this philosophy, that is my opinion.