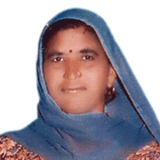 Smriti Roshni Devi Asthma cured by Siddha Yoga practice
Location
Village - Lalgarh, Sriganganagar (Raj.)
When I chanted and meditated with full devotion to Gurudev, 15-year-old asthma got cured within 10 days.
First and foremost, my salutations at the holy feet of Gurudev Shri Ramlal Ji Siyag and Baba Shri Gangainath Ji Yogi (Brahmleen).

I (Roshni Devi) am a resident of Lalgarh. For the past 15 years, I was suffering from asthma. First of all, my son Rajpal showed me to the local doctor of the village.

I started taking asthma pills every morning and evening, but got no relief. We went to Ganganagar and consulted an asthma specialist who advised me to take asthma medicines for life. I took asthma medicines for 12 consecutive years, but instead of benefiting, my body swelled up and I started having problems in walking.
One day Gurudev's disciple Tarachand ji, told my son Rajpal about Gurudev and assured him that Gurudev's meditation leads to freedom from all kinds of diseases and addictions and the seeker attains salvation.
On 24 August 2014, my son took me to the Shaktipat initiation program at Ganganagar. But I did not have complete faith in Gurudev because I had been worshiping the deities of the house for years. My son told me to worship the Gods and Goddesses for 10 days, but if there is no benefit then to meditate on Gurudev.

For ten days, the program of worshipping the same deities once again went on, but I did not get any benefit. Ultimately, there was no way left except to take refuge at the holy feet of Gurudev. I started meditating on Gurudev with full dedication and I got cured of 15 years old incurable disease like asthma due to Gurudev's immense compassion.

The hellish life that I was living for so many years has become happy and joyful by his grace. I bow to the extremely merciful Gurudev.