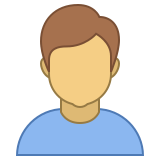 Sahab Singh Pain from worn off Intervertebral Disk between L4 and L5 relieved
Location
Kablana, Jhajjar, Haryana, INDIA
First of all, my humble obeisance's to Gurudev.
I (Sahab Singh) am employed in Indian Armed Forces. I was suffering from severe pain in my waist area. The MRI test deducted PIVD (Prolapse Intervertebral Disk) L4-L5. I was admitted in Naval Hospital INHS Ashwini.
I was in terrible pain at that time and was not in a condition to sit in one position for more than 2 minutes. I used to walk limply.

The doctors told me that the Intervertebral Disk between L4 and L5 has worn off and as a result L4 and L5 are touching each other which is causing all the trouble. Doctor advised me to go for operation but also told that it is a risky one.
During this time a friend of mine informed me about Gurudev and by Gurudev's grace I was able to meditate. I sat in one position for half an hour during meditation when I was not able to sit in one position for more than two minutes.
This helped me surrender to Gurudev completely. I took initiation in Spetember'2009.

Day by day I experienced deep meditation. I felt a lot of relief within seven days and I recovered completely in 15 days. Earlier I used to take injections and tablets for pain. When my pain disappeared by meditation and mantra chanting, I stopped taking them.

Doctors had advised me not to play games, run or carry weight. I am completely healthy now. I run for 5 Km every day, play games and do the all my duties in the army.

Earlier I was a non- vegetarian but now I don't feel like taking it so have become pure vegetarian. Now I am trying my best to spread information about Gurudev Siyag to everyone as I want more and more people to benefit from it. Many salutations to my revered Gurudev!

Reference: Spiritual Science magazine December 2018