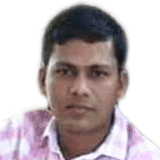 Chhagan Kumar Freedom from Kidney stones
Location
Chhagan Kumar, Son of Shri Gordhan Lal ji Prajapat, Jodhpur (Raj.)
Gurudev gave me a new life, gave me spiritual knowledge, I bow at his lotus feet. Life troubles and illness started with my birth. I used to have cough, fever and headache and stomach pain very frequently. I with my father used to see the doctor and the doctor used to hand over a long list of medicines. In 7 to 8 years, I had taken so many medicines that my body smelled of medicines.
When I was studying in third grade, I had severe stomach pain. The doctor after check up told that I had kidney stones. The doctor said that an operation was required. While performing the operation, the stone shattered in the kidney but the doctor did not mention anything about it.

My stomach started hurting more than before. Thus, life became hellish. The desire to live life was over. At such a time, by coincidence or by the blessings of Gurudev, my father took a contract to build the floor in the Jodhpur ashram of revered Gurudev Shri Ramlal Ji Siyag.
Hundreds of people used to come there to meditate on Gurudev. When there was an initiation programme, thousands of people came to take initiation. There my father met Sangaram Ji, a disciple of Gurudev.
When my father told him about my problems, he told my father that everything will be okay once he got me initiated from Gurudev.

My father brought me to the ashram and got me initiated. I started doing regular chanting of Sanjeevani mantra and meditation. Yogic Kriyas started happening automatically during meditation. I started getting sound sleep whereas earlier I used to have sleepless nights. And I got well in two-three months.

I was initiated by the end of 2002. Today, it has been almost six years, I am all right. The stone itself passed out with urine. Life has become blissful. Previously I was very weak in studies. I failed in the eighth grade twice. By the blessings of Gurudev, I started concentrating on my studies and I passed tenth with second division.

Today I am 23 years old and I do contract work. I am rich both spiritually and physically. I repeatedly salute at the lotus feet of Gurudev.