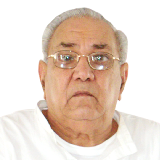 India's Situation
October 10, 1997
Bikaner, Rajasthan
Gurudev Shri Ramlal ji Siyag
Go to
'Gurudev's Divine Writings'
There has never been as much 'Tamasikta' in India in any era as it is today. The distrust that prevails in the country today was never there before. Nowadays, everyone in the country is trying to cheat each other.
No one is able to understand in which direction the country is going. Nobody believes in God in a real sense. Everyone is very concerned about the future. Compelled by greed, everyone is trying to accumulate wealth by any means. The number of such people is increasing tremendously. More than half of the country's wealth is lying with these people illegally in the form of black money.

On one hand, people do not have money to meet their basic needs like food, etc. and on the other hand, people do not have enough avenues to spend the money. Until the government officials do not become religious and of great character, the rise of the country is impossible.

I can see that the downfall of such people has started. The great thing is that this time this work has started from the top so it will not take much time to spread to the lower levels. To some extent, this change has reached the lower levels, which is a good sign.