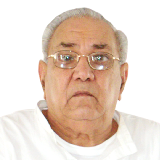 Importance of 'Tapas' in Jain Religion
October 5, 1997
Bikaner, Rajasthan
Gurudev Shri Ramlal ji Siyag
Go to
'Gurudev's Divine Writings'
The followers of Jainism try to control their desires through external rituals which is an impossible task. This is possible only by the awakening of the inner power. The practical method to awaken the inner power is known only to the knower of Vedanta that is the Hindus. No other religion or philosophy in the world knows the practical method of the complete evolution of man.
According to the founder of the Jain religion Teerthankar Shri Mahaveer, non-violence, self-restraint, and austerities are the three pillars of religion. If we study the Jain religion according to Hinduism, we will realize that the followers of this religion have evolved only up to dualism. They have yet to reach non-dualism.

Vedic religion that is the Hindu religion is the father of non-dualism.

Non-violence means 'Brahma'

Self-restraint means 'Vishnu'

Austerities means 'Rudra'

In this way, we can see that what is being termed as bliss by the people of the world is only material happiness. Bliss is everlasting. Its form and reason don't change with age. Since the man of this age has not tasted bliss that is why he cannot differentiate between pleasure and bliss.

Only the Hindu religion talks about directly experiencing and realizing that Supreme element, the father of the above three. In my life, I have practically seen that all the Jain youths who took initiation from me have progressed faster as compared to people from any other religion.

I do not advise people of any religion to change their religion. According to my principle, a man can attain the highest evolution while being in any religion. I have millions of disciples from all kinds of religions and all of them are undergoing transformation by the same method.

- Gurudev Shri Ramlalji Siyag

I practically feel that today, all the religions talk about the evolution of man but they do not tell any practical method for it and if someone tries to tell a practical method, they don't trust him. Never before had there been so much distrust in religion.

Among my disciples, the number of young boys and girls is maximum. Thousands of my disciples are engineers, doctors, and scientists. They are from all religions and castes. I feel that their religious teachers are a bit restless because of this. Efforts are being made to put obstacles in their path.

I have now decided that in the future I will spread this religious knowledge in the western world. Today, India needs bread, not religion.