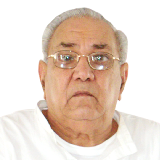 The Whole World is only a Form of the Supreme Power
April 14, 1988
Gurudev Shri Ramlal ji Siyag
Go to
'Gurudev's Divine Writings'
One Supreme Power alone is manifesting in different forms in the world. Clarifying this further, Bhagwan Shri Krishna in the Bhagavad Geeta has said-
sarva-yoniṣhu kaunteya mūrtayaḥ sambhavanti yāḥ
tāsāṁ brahma mahad yonir ahaṁ bīja-pradaḥ pitā (14:4)

Bhagwan Shri Krishna

O son of Kunti, for all species of life that are produced, the material nature is the womb, and I am the seed-giving Father.

sattvaṁ rajas tama iti guṇāḥ prakṛiti-sambhavāḥ
nibadhnanti mahā-bāho dehe dehinam avyayam (14:5)

Bhagwan Shri Krishna

O mighty-armed Arjun, the material energy consists of three guṇas (modes)—sattva (goodness), rajas (passion), and tamas (ignorance). These modes bind the eternal soul to the perishable body.

tatra sattvaṁ nirmalatvāt prakāśhakam anāmayam
sukha-saṅgena badhnāti jñāna-saṅgena chānagha (14:6)

Bhagwan Shri Krishna

Amongst these, sattva guṇa, the mode of goodness, being purer than the others, is illuminating and full of well-being. O sinless one, it binds the soul by creating attachment for a sense of happiness and knowledge.

rajo rāgātmakaṁ viddhi tṛiṣhṇā-saṅga-samudbhavam
tan nibadhnāti kaunteya karma-saṅgena dehinam (14:7)

Bhagwan Shri Krishna

O Arjun, rajo guṇa is of the nature of passion. It arises from worldly desires and affections and binds the soul through attachment to fruitive actions.

tamas tv ajñāna-jaṁ viddhi mohanaṁ sarva-dehinām
pramādālasya-nidrābhis tan nibadhnāti bhārata (14:8)

Bhagwan Shri Krishna

O Arjun, tamo guṇa, which is born of ignorance, is the cause of illusion for the embodied souls. It deludes all living beings through negligence, laziness, and sleep.

sattvaṁ sukhe sañjayati rajaḥ karmaṇi bhārata
jñānam āvṛitya tu tamaḥ pramāde sañjayaty uta (14:9)

Bhagwan Shri Krishna

Sattva binds one to material happiness; rajas conditions the soul toward actions; and tamas clouds wisdom and binds one to delusion.

rajas tamaśh chābhibhūya sattvaṁ bhavati bhārata
rajaḥ sattvaṁ tamaśh chaiva tamaḥ sattvaṁ rajas tathā (14:10)

Bhagwan Shri Krishna

Sometimes goodness (sattva) prevails over passion (rajas) and ignorance (tamas), O scion of Bharat. Sometimes passion (rajas) dominates goodness (sattva) and ignorance (tamas), and at other times ignorance (tamas) overcomes goodness (sattva) and passion (rajas).

nānyaṁ guṇebhyaḥ kartāraṁ yadā draṣhṭānupaśhyati
guṇebhyaśh cha paraṁ vetti mad-bhāvaṁ so 'dhigachchhati (14:19)

Bhagwan Shri Krishna

When wise persons see that in all work there is no agent of action other than the three guṇas, and they know Me to be transcendental to these guṇas, they attain My divine nature.

To make it clearer, Bhagwan Shri Krishna further says-

īśhvaraḥ sarva-bhūtānāṁ hṛid-deśhe 'rjuna tiṣhṭhati
bhrāmayan sarva-bhūtāni yantrārūḍhāni māyayā (18:61)

Bhagwan Shri Krishna

The Supreme Lord dwells in the hearts of all living beings, O Arjun. According to their karmas, He directs the wanderings of the souls, who are seated on a machine made of material energy.

That is the reason that Bhagwan has made Arjun believe firmly in the following -

sarva-dharmān parityajya mām ekaṁ śharaṇaṁ vraja
ahaṁ tvāṁ sarva-pāpebhyo mokṣhayiṣhyāmi mā śhuchaḥ (18:66)

Bhagwan Shri Krishna

Abandon all varieties of dharmas and simply surrender unto Me alone. I shall liberate you from all sinful reactions; do not fear.

This nectar-like sacred scripture- Bhagavad Geeta has also been covered by 'Tamsik' tendencies to such an extent that man is wandering in delusion. Most people in the world have lost faith in religion. The man of this age considers religion to be a business run in the name of God. The truth has completely disappeared from religion; only untruth is prevailing.