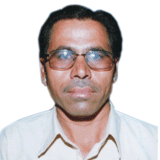 Ganeshram Jakhar (Teacher) Vision of Divine light
Location
Village: Bagoria, Tehsil: Bhopalgarh, District: Jodhpur (Raj.)
My salutations to Samarth Gurudev Shri Ramlal Ji Siyag and incarnation of Lord Shiva, Baba Shri Gangai Nath Ji Yogi. I took initiation from Gurudev Shri Ramlal Ji Siyag at Gandhi Maidan, Jodhpur on 13 May 1999.
After taking initiation, I started chanting and meditating regularly. Four days later, during meditation, I felt a shock in the last part of the spine and then the Kundalini Shakti started moving upwards.

During meditation, infinite joy was experienced and various types of yogic kriyas, pranayama occurred automatically.
Ajapa Jap has started. There is a state of joy all the time. Have smelt Divine Scent many times during meditation and saw Bhagawan Shri Krishna.
One day during meditation in the morning, saw an elliptical shape bright light appear. Sometimes bright sparks are seen revolving around the body during the day.

After Gurudev entered my life, fear has disappeared and there is constant guidance and support from Gurudev. The tasks which I begin by dedicating to Gurudev are completed easily. Gurudev protects the entire family. Gurudev is God to me.

Gurudev has appeared on this earth to transform the entire human race into divine form and to establish peace and happiness on earth for thousands of years to come.

I want to request to mankind to take initiation from Gurudev Shri Ramlal Ji Siyag to make life meaningful and happy.

The real truth will be revealed only by meditating on Gurudev. Jai Gurudev.