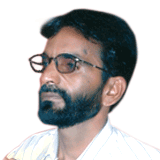 Subhash Jangid Relief from Sciatica
Location
Village - Jejusar, District, Jhunjhanu (Raj.)
My humble obeisance's to my Gurudev Shri Ramlal Ji Siyag. All the disciples of Gurudev know that HE is the ultimate power and is Bhagwan Shri Krishna.
But I want to tell those who are not disciples of Gurudev that Gurudev is the ultimate power who protects his disciples every moment.

I have seen difficulties disappear since I started meditating on Gurudev. Whenever problems arise, it is solved beforehand.
Once a problem is faced by me, I leave everything to Gurudev, a solution is reached in a moment.
When I used to take 'kavad' for Bhagwan Shiv, I used to consume cannabis and hemp etc. Ever since I started meditating on Gurudev, I have automatically left drugs and have been cured of all physical diseases. All the addictions have gone away.

Before meditating on Gurudev, I was suffering from a terrible disease, called sciatica. It has been completely cured now.

I had spent a lot of money on doctors for treatment but got no result. Now there is nothing called discomfort in the body.

Therefore, it is a request to those who are not a disciple of Gurudev, to concentrate on Gurudev to know the effects. Devote yourself to Gurudev and watch life become joyful. Jai Gurudev.