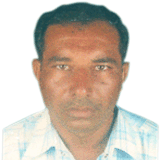 Ramdayal Vaishnav
Freedom from Arthritis and Kidney Stone
Location
Via-Pipar City, Jodhpur (Raj.)
I took initiation from Gurudev on 25 October 07. Before taking initiation, I was suffering from arthritis for 20 years and there was a stone in my kidney. I was living a hellish life.
I used to be under mental stress all the time. The pain-relieving medicines used to give relief for some time. Took treatment from various kinds of doctors at many places, but did not recover.

I was physically very weak and medicines did not give any positive results. But after taking initiation from Gurudev my life changed. I have discontinued all types of medicines.
Today, after seven months, my arthritis has been cured and the kidney stone has gone out automatically and there is no longer any kind of pain in the body.
I am free from restlessness and mental tension.

The glory of Gurudev is infinite. By taking initiation and meditating on Gurudev, my life has become blissful and I have been freed from hellish life I was living. Humble obeisance's to Gurudev who gave me hope to live life.