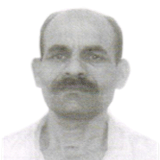 Hiralal Patel Freedom from tracheostomy tube
Gurudev Siyag's Siddha Yoga has proven that dry woods can sprout too.
Nothing is impossible for Gurudev. Every Sunday at Ashwini Hospital, Mumbai, meditation is done on the picture of Gurudev Shri Ramlal Ji Siyag along with mental chanting of the Sanjeevani mantra.

I, Hiralal Patel, work for Defence Security Corps. On 4 June 2011, I suffered an internal deep injury in my head as I fell from a tower. I went into coma. I was admitted in a Military Hospital. Seeing my critical condition, on 28 June 2011, I was transferred to the biggest military hospital in navy- INHS Ashwini in Mumbai.

There I was placed in ICU. Doctors installed the tracheostomy tube in my throat, the Ryle's Tube for feeding and inserted the catheter because I stopped urinating.
After several days I came to my senses. But my condition was not good. The doctors told me that this tracheostomy tube in the throat will never be removed. They said that it will stay with me as long as I live. Blood soakage bag was fitted. I.V. line was running.
My wife took me to the park on a wheel chair to meditate on Gurudev. I started meditating on Gurudev from 20 August 2011. I started walking after 15-20 days.

On March 1, 2012, my Tracheostomy Tube was removed and I am healthy now. As soon as I started meditating, I used to fall backwards and the body used to start vibrating.

I chant and meditate regularly. As my faith in Gurudev grew, my condition improved and I am completely healthy today by His grace. All this was made possible by the power of Gurudev's Siddha Yoga. The tracheostomy tube was removed from my throat. The food pipe was removed and now I am completely fine.

This is a miracle just like growing of a sapling from a dry wood.