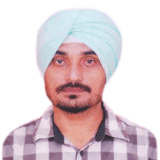 Pradeep Singh Found a real Guru after a search of 14 years
Location
Premnagar, Barnala (Punjab) -148101
I am Pradeep Singh working in Indian Army. There was a time when neither I had knowledge about religion, nor about Guru. My life was also going on like a common man. In 2003, my interest and faith in Guru was awakened. I was posted in Tangdhar in Jammu and Kashmir.
There I had a friend who always talked about Guru, and while talking he used to get so emotional that tears flowed from his eyes. I used to wonder why he has so much love for the Guru?

Gradually, I started understanding the need of a guru in life, the goal of this life, and also that this goal cannot be accomplished without a Siddha Guru.
I looked for Guru, got a Guru, received mantra initiation from him and started my spiritual practice. I continued doing the spiritual practice but there was no result. I had a strong desire for devotion as I wanted to attain God as soon as possible.
At night, I used to meditate and chant. Because of intense chanting and meditation, my focus was so concentrated that as soon as I would go to bed to sleep, my whole body used to get filled with light. I could not understand this. I wondered if I was in light or light was within me.

I could not see anything but light. "Anhad Naad" also began to be heard by me and it was so intense that it was difficult for me to bear it. (This whole incident happened just because of my concentration.)

(Getting initiation from Gurudev Siyag).

It was May 2017. I was admitted in Military hospital-Ashwini where a disciple of Gurudev Siyag used to tell the method of Gurudev Siyag's meditation. I thought there is nothing wrong in trying so I also meditated after seeing the picture of Guru ji. Without any effort on my part I went into deep meditation. I was in bliss.I experienced deep peace. The inner suffering of so many years vanished and there was calmness within. In these 10 to 15 minutes of meditation, I realized that He is my true Guru. All my doubts disappeared.

After 14 years I met a true master. Today my life has a meaning. I do not have any kind of concerns. I have given myself to Gurudev.

Once there was a lot of pain in my ribs. I prayed for its cure and during meditation, Yogic kriya occurred at those points. For the first time that day I felt the presence of a higher power.

My body jerked and I was sweating and a metallic sound came from inside and my pain was cured.

I found Gurudev after so much yearning hence I understand the value of "Guru Tattva". I bow repeatedly to Gurudev.