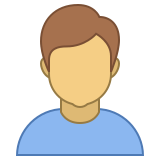 V. RAJSEKHAR TESTICLE TUMOR CURED
Location
Madurai, Tamil Nadu
My name is V Rajasekhar from Madurai, Tamilnadu and presently serving in Indian Air force Station, Jamnagar. I am married and have a child of one & half year, also. My problems started when I was having pain in my right testicle with swelling. Initially, it was treated for Philaris. But the problem remained same and afterwards it was diagnosed as hydrocele and operated on Mar 08. But, even though, the problem remained same.
Also, I had been given the treatment of tuberculosis for seven months. In 2009, I was admitted in Asvini Hospital, Mumbai. A blood test done in Tata Memorial Hospital revealed the presence of tumour infection. Tumour markers were high and then a high orchiectomy was done on 26 Aug 09.

I had a strong faith in God but I could not accept that I had cancer and there after I lost the faith. Fortunately, I met a person, Manvir who was already aware of the miracles of Guru Siyag's Siddha Yoga. He explained me about the Siddha Yoga which claimed to cure all deadly diseases like HIV/AIDS, cancer, etc and Gurudev Sri Ramlalji Siyag, the founder and patron of Adhyatma Vigyan Satsang Kendra. I could not believe on it completely but I started practicing with full dedication.
After three days, I felt the power of the meditation of Guru Siyag's image what made me to feel better day by day. As the time passed on, I became totally dependent on Gurudev Siyag. I realized that the benefits from Siddha Yoga were fully depending upon the faith and the devotion we had towards Gurudev.
I started praying to Gurudev for my demands with full confidence that it would be listened and fulfilled. So, it happened. On completion of half of the period of the treatment, I was taking in the hospital, some tests were decided to undertake for the assessment of the effects of the medicines. The tests were done and I found dramatic results. All the parameters were within the limit as a normal human body. Thus, I got my life back.

In addition to this, I would like to say that the practice of Siddha Yoga has given me many things related to spirituality. Also, I was able to quit addiction of smoking, drinking and tobacco within a short span of time because of the power I got from this prayer. I, now, can say that this was like a diversion board in my life that taught me how to live a spiritual life in this materialistic world.